While on promotional tour in Paris, the British game director and screenwriter of Until Dawn shared his thoughts on a few subjects. How trying new things is still hard in a conservative video games industry. How cinematics and stats menus are just compromises that will soon live in the past of first person experiences. How breaking the fourth wall is a risk worth taking. How video games are hard on Hollywood actors, and how soon-to-be-a-star actor Rami – Mr Robot – Malek and veteran Peter – The Big Lebowsky –  are good at playing a distressing characters…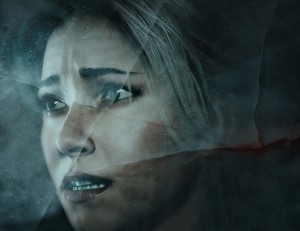 Bliss: What is the final budget of Until Dawn development?
Will Byles, Creative Director Supermassive Games: I don't know it. It's… a lot (laughs). It's been split into two. We made the game twice. First for the PS3 and then for the PS4/
Bliss: You mean the full game with all the assets and the game engine?
Will Byles: Yes, everything has changed, the style, the cast… We rewrote all the script.
Bliss: It's not the same game then…
Will Byles: It's the same fondamental part of it, but it's used to be first person with the move control, a more gimmicky one. This one is more cinematographic. We changed a lot of it.
Bliss: You still kept the movement control now with the Dualshock 4 gyroscope…
Will Byles: Yes, I can move the face on screen with the Dualshock 4 (showing on screen) and during the game.
Bliss: From Start the party to help on KillZone HD and LittleBigPlanet 2 to scary « adult » game Until Dawn, what cause such a jump in Supermassive's projects? Was Until Dawn a Sony Computer project or a Supermassive one?
Will Byles: We were making those games on the PlayStation 3 Move accessory so that's where the filiation came in. Until Dawn was first a game developed for the PlayStation Move. At the time, Supermassive was looking at this Move control horror game and they wanted me to look at the drama side of it. I came just before the switch to look into interactive drama, because my background is more drama from theaters and films. That's how I came to the company. Then I wrote the story for it with Pete Samuels (Managing Director and contributor to the official PlayStation Europe blog, ndr). We've kind of put this script together to the point where we almost finished it. And then we had this strong public reaction of people who wanted this kind of control as well with the Dualshock 3. They wanted us to change it, so Sony looked and said « If you're going to change it, the PS4 is coming, do it with the PS4, we'll start again, we'll use the same story but we'll branch it more, we'll get rid of some of the gestures, it will still has moves but it will not be ABOUT the moves. » The original game was about controlling things, picking things up…
Bliss: It seems it could work well with Sony's Morpheus VR project. Don't you have a version of the game ready for it?
Will Byles: Noo. To be honest it's very difficult… Too much walking around with the Morpheus would make you feel a bit sick so I think it would've been hard for Until Dawn. It's odd to work with.
Bliss: Because of low cost budgets, the first horror/slasher movies from the 70's and 80's had a very rough, trashy look. But your game has a very neat and slick image that need to sale the PS4 power which is far from say gritty Silent Hill games. Wasn't it some kind of handicap to have to use such a beautiful image and still create fear and discomfort?
Will Byles: Yes. The image is as clean as it could be (laughs), but also there is vignetting in it, there's grain, there's a bunch of things we put in. As you said, it starts with the early slashers of the 70's but it goes up till the post modern Scream self referential higher budget like I Know What You Did Last Summer… So we wanted to get all of those into there as well. And there's also a level of acceptance of what people will or won't accept if we went with a very kind of grainy and very hard to look image. We think, probably, that a significant amount of people, younger people who didn't see those films, wouldn't maybe understand.
Bliss: Still, if I remember properly, some Silent Hills 2 editions had an option to have the film screen grain noise effect on or off. You could have played that card…
Will Byles: Yeah it's a good idea…
Bliss: When you drop the pad for a few seconds the game zoom in on the face of the character waiting for you to return. How and when did that idea come along? Was it a Sony Computer idea to show off the tech or a Supermassive idea?
Will Byles: Well it was me (smiles). Thing is, if you leave the controller and the scene on screen stays in a wide shot then, with film langage, it is saying something. It's telling you that there is a potential space fear. Depending of how the shot is framed, it always is saying something. With a close up, that fear is more ruminative, like you are thinking, like there is some pause in your thoughts… And then it felt that if we do that, hey! it will indeed show off the faces because, you know, we spend a lot of money on the faces (laughs). And it shows off the AI too. Even when you're playing there's an AI catching the audio of things around you can't see but hear. It means that when you pick up the controller back, it feels like you go back for a while, like an invitation to move forward.
Bliss: It's so obvious when it happens, when you explain it, and still it hasn't really be done so far and we'll probably see this idea used everywhere soon. Why now?
Will Byles: The quality of the faces, the textures allow us to get this close without breaking the suspension of disbelief. Obviously it's still CGI but it's better CGI than it used to be. That's one thing. The second thing is we have a new lighting paradigm which meant, wherever I put the camera it's always lit like a film, whether it is a back light or a rim light… And we used lighting very similar to film (technical details I didn't get properly, sorry, but let's try anyway… ndr)… which has a motion of silver high lights that changes the film where you get a gradient of gray. Something regarding the light you do in film but don't do in video so much nor in real life: where the light is too low to change the crystals, you have blacks (showing face on screen, ndr) with shadows here and here that are completely black which is something that never happens in video games. So we were able to use light and dark in a way that doesn't get lit usually. We wanted to have full areas of dark while you still see the character. It took not only a lot of technical changes but a lot of argument because the game industry is conservative and doesn't like to break the paradigm of what it knows to be successful. But it you look at Until Dawn, there is a lot of dark. And you can't make dark just by dialing down the volume of light. You need to do it by having high areas of light and high areas of dark to contrast it. So that one of the things we were trying to do and see in those close ups.
Bliss: Obviously, the game has a cinematic feel and tries to convey emotions thru body languages and face's expression, but as in a RPG or a Sim game, the gamer has to relate to menus and gauges to evaluate relationships and affinities between characters. Isn't this a bit contradictory? Like there are two games on top of each other…
Will Byles: Yes, it's a big question. We've approached prototypes where we had nothing, literally, even the choices were invisible. My feelings is this is the future, that the artificial nature of graphic exposition and stats menus is a transitional stage. We have to go thru it…
Bliss: You mean for the gaming community?
Will Byles: For everybody. Because we noticed that some of the gamers are sometimes very much talking to each other while playing. In the movies, you sit and watch the movie. In game there's a slightly higher level of surface watching. Once you get to it, it becomes more immersive but I think it takes a little while to get in it. The other thing we noticed when we did the no interface prototype, just like a film side of it, people didn't know there was an alternative. So they played the story thru, the story was great and fine and they got to the end of it « Yeah, it 's great », « But so what?: it's a story ».
Bliss: Maybe you could only have had the check list at the end of the game… and invite to play the game again?
Will Byles: We could have done that, yes, and we still do it. But there were enough people that wanted to know all along. For instance, we did an early review and the guy who played would say « Yeah I liked this character arc ». And it was very strange because he did things in the game we didn't ask. So people often saw the game they played as the only story there was and we wrote. The didn't understand that their play thru was only One of the things we wrote. And, actually, we dont' know the final combination of decisions, but that would make a different character arc depending of how it worked. And we wanted to let people know only if they want to, they don't have to go to look at this at all, it won't necessary change their story. In fact it won't change their story. In the course of the game, if you have a bad relationship with someone, you will know. You will know if you have a fight with Mike and Matt that it's going to be bad. The fact that you have a bad experience may even kill you but you don't need to see that particular event. It's just here for people who do want to see that.
Bliss: So there is no obligation to go the menus and check everything out?
Will Byles: No. You can play the full game without going to the menus. But for people who do like to see that stuff and they are who do, it is there. Personally I prefer not to, but…
Bliss: Music composer Jason Grave  (Dead Space, The Order 1886, Tomb Raider…) talks about an emotional check list everybody agreed to achieve at the beginning of development. Can you list it?
Will Byles: What he's talking about is not a reality in the fact that the final game is much different that what we were effectively saying at the beginning. At the start we said: this is an interactive horror. And then we said: it's a « slasher horror », a very traditional one like Halloween, etc. And the reason we wanted to have characters to be a little unlikable, a little bit cliché,… very cliché (smiles), is because we all know exactly what they are. We know where the joke is, where the nerd is, the blond girl, the fashionista girl, so we know all of this things. At the start they're unlikable, they're not very nice, like in a standard horror. They come back one year after this event and the player is like « Why would you do that? »… We have this set of rules. We had to have a ahab, the supernatural killer, maybe yes maybe not, you know, all those things that once included we start to twist them around, to undermine that structure.
Bliss: You have some great casting in the three main characters and then you have Rami Malek who is suddenly turning into a full star thanks to Mr Robot TV show… When and why did you hire him?
Will Byles: Rami? We saw him in a few things, obviously in Twilight (…Chapitre 5, but also noticed in The Master, Old Boy, Need for Speed… ndr), he wasn't a big name but he's got a great presence. So we challenged him and try to see if he was up for it, and he was et he was phenomenal. He's a very intense actor. He did some scenes that I won't tell you because you haven't play the game thru but, those scenes are very… distressing. He's really good.
Bliss: Why did you pick great Peter Stormare (Fargo, The Big Lebowsky, Zero Theorem…)? Was it difficult to persuade him to participate? He didn't make that many game voices (Destiny, Elder Scrolls OnLine 2004, Command & Conquer 2008)…
Will Byles: People are getting better at understanding that, yes there is acting in videogames, especially now that you have…
Bliss: …Maybe the budget?
Will Byles: I don't know how much we paid him, I'm guessing same as film. We didn't have him here very long. We had this role of the analyst that we wanted to be confusing for the player: « What the hell is this, breaking the 4th wall? ». Since the character is talking directly to the camera… « I don't understand it ». And as the analyst comes back more and more in the game, it gets more and more weird and distressing. And he's perfect for that. It's about presence, he has this magnetism you can see it even there on the screen (showing the CGI face on screen, ndr), it feels slightly upsetting (laughs). And we very wanted that feel so that's the reason we chose him. And he was just brillant, he's crazy.
Bliss: Did he have the full script when accepting this role? And maybe the script changed in the course of development?
Will Byles: Yes he had the full script ahead. We did change the script but not his part. The actors have a hard time on a video game such as Until Dawn, it's a very arduous work day for them, much more so than on a film. They only have a short time to do it, and they have to jump to several versions. One scene is maybe five lines and has to be done ten times for each version. And also the way they perform has to have the right timbre.
Bliss: You just mentioned it, the game often breaks the fourth wall and use several gimmicks to have characters making eye contact with the player by talking directly to the screen… This could turn into a double sword trick: too campy, taking the player out of the experience… How did you evaluate this and why did you use it so thoroughly?
Will Byles: Obviously a big part of the game is in the choices to make, and especially in the conversations. So you're right, when you have a conversation, the camera cuts to the front of the character and the character looks effectively into the camera and look left or right depending of the choice you make. We decided to have an interface that was on screen so you go, ok if you make this decision, it's on screen, kind of in the world but not quite, because it's very abstract like a… It's one of those things strangely as crossing the boundaries of game and TV and films. If you look at something like Sherlock Holmes on the BBC One, there is text coming up on screen, there is this kind of weird abstract level up of an interface within the screen within the world. We had to allow the player enough time to make his choices and we wanted it to be engaging. We didn't want the character to be up and looking around too much.
Bliss: You could have another character just outside the frame so the main one would look at him like in a regular movie dialogue shot as in a champ-contrechamp…
Will Byles: Yes and we do that as well but it depends. And the face to face on her own is very hard to make it right.
Bliss: But the main objective is still to involve the player more because we look directly into the eyes of the character, right?
Will Byles: Potentially. And we also try to do a thing when as soon as you drop the controller down, like you said, we cut to a close-up. So this also have this kind of contact again, because even during the close-up you're in control, you can move the head as well with the controller and get it to look directly at you. It's one of those things, it is coming out of this idea of the narrative transports where you are risking… loosing emotion… But we need to talk to you as a player: « You need to do this now » and come back and we'll take you away.
Part 2…
Will Byles/Until Dawn: Appointment with deaths 2/2
Interview conducted by François Bliss de la Boissière
…in the offices of Sony Computer France in Paris August 24, 2015
---
Message aux lecteurs. Vous avez apprécié cet article, il vous a distrait un moment ou aidé dans vos recherches ? Merci de contribuer en € ou centimes de temps en temps : Paypal mais aussi en CB/Visa avec ce même bouton jaune sécurisé …

Comme dans la rue, pas de minimum requis. Ça fera plaisir, et si la révolution des microtransactions se confirme, l'auteur pourra peut-être continuer son travail d'information critique sans intermédiaire. Pour en savoir plus, n'hésitez pas à lire ma Note d'intention.
---